Self-Evaluation
Spider veins and varicose veins on your lower limbs, or aching and tired legs are all tell-tale signs that you have a vein disease and should look for a "vein doctor New York" to seek treatment from a reputable vein clinic in New York City. Vein disease causes heaviness or aching in the legs, especially towards the end of the day if you have been up and about. After a long day of standing or walking, blood can make its way down to the legs and cause a lot of pressure.
Although you may have grown accustomed to leg fatigue and swelling in the feet or ankles, and itching or burning spider veins and varicose veins, try to remember what your legs looked and felt like five or ten years ago. If you notice that your legs are more tired or achy than they used to be, then you should seek out treatment options by visiting a vein doctor at a vein treatment center. These signs and symptoms are far more than just developments of the aging process, but venous insufficiency and spider veins can be treated at a vein clinic!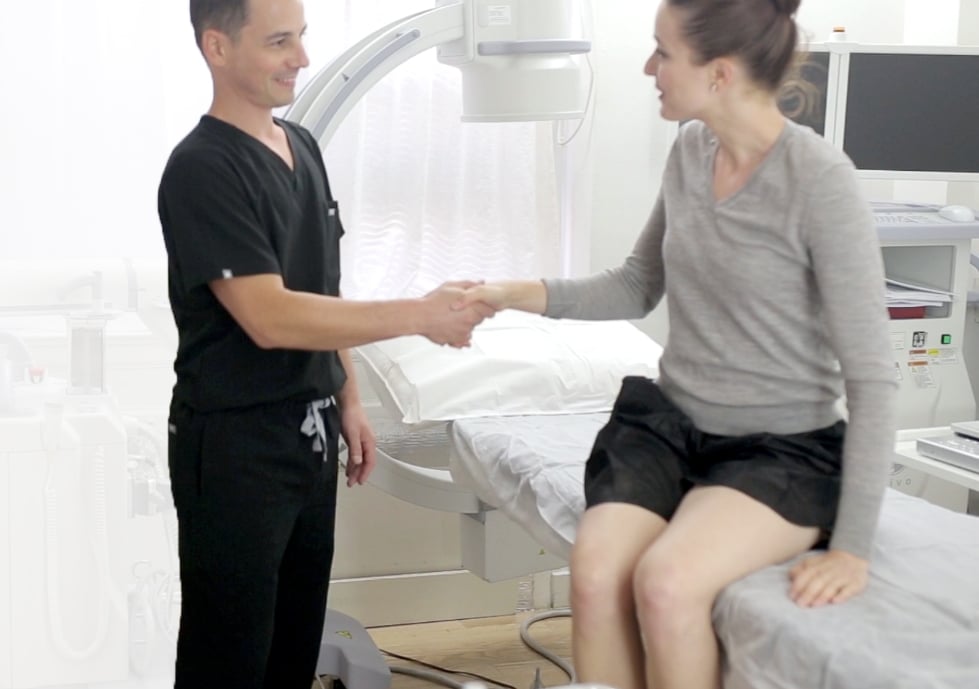 Evaluation at a Vein Center
At a vein treatment center, the vein doctor will check your large and small saphenous veins for valve blockages or damages. These vein issues can cause venous reflux or venous insufficiency, which are conditions in which blood flows in the wrong direction and therefore does not sufficiently travel to all parts of the body. After this process, the vein doctor will then check for symptoms that you may not have originally reported (such as itchy or burning veins, swelling, aching legs, etc.) so that insurance can be applied for a doctor-recommended treatment plan and cover the costs.
The root cause of spider veins and varicose veins are typically the veins that feed all other veins: saphenous veins. The first step of most doctor-recommended treatment plans for vein disease starts with closing down the saphenous veins which in the past would have been an exclusively surgical treatment. However, thanks to medical innovation, we are now able to treat varicose veins and spider veins through minimally-invasive treatments. This means the vein doctor will only have to make a small incision to perform the procedure, which leads to minimally-invasive procedures that have a lower risk, shorter procedural time, and less recovery time after leaving the vein center.
There are a variety of treatment options offered at a vein treatment clinic, including VenaSeal, Radiofrequency Ablation, and Varithena. VenaSeal is a vein adhesive used to close the saphenous vein in the leg that causes varicose veins, and doesn't require any injection of local anesthetic. Once the adhesive is applied to the vein, the VenaSeal glue acts almost instantaneously to seal the diseased vein, which will eventually reroute the blood automatically through the healthy veins in your legs.
Radiofrequency ablation is another non-surgical minimally invasive treatment that starts with the administration of a local anesthetic, followed by the insertion of a catheter into the unhealthy vein using an ultrasound. Once the numbing solution is delivered to the length of the vein, the catheter is activated and thermal energy is delivered to the walls of the vein to close them down.
Varithena is a pre-made sclerotherapy foam and is injected into the vein to reduce the appearance and symptoms of varicose veins. In rare instances, it can cause an allergic reaction to роlіdосаnоl, so it is important to consult a reputable vein doctor so they can rule out that possibility.
If you have spider veins or varicose veins, and need to determine if you have a vein disease, it is essential to set up an appointment with a vein specialist in venous medicine to minimize damage to the veins and prevent further problems down the road. If you are looking for a "vein doctor Midtown," you can contact us at the Vein Treatment Clinic location in New York City, conveniently located in the heart of New York in Midtown, near notable landmarks such as the United Nations and Madison Square Park. Our vein treatment center is easily accessible, as it is in close vicinity to both Grand Central Station and Penn Station.
You can schedule your consultation with any of our three incredible vein doctors and be assured of the highest-quality care. Dr. Sareh Rajaee is a Yale-trained vascular surgeon with extensive experience in vein and arterial disease. She has an excellent success rate with spider veins and varicose vein removal, but more importantly, she values the relationships she has with her patients and believes in a holistic approach towards patient care. She is deeply committed to patient care, patient advocacy, and health and human rights equality.
Dr. Namrata Khimani is a double board-certified doctor who trained at both Harvard and Columbia, and her expertise is in recurrent vein disease and patients who have had prior procedures. She is heavily involved in medical education, and doctors from across the nation come to her vein clinic to learn her techniques in cutting-edge vein treatments.
Dr. Juan Montoya is a Yale-trained double board-certified specialist in venous medicine and cardiothoracic surgery. He is highly experienced in the latest minimally-invasive vein treatments to treat Chronic Venous Insufficiency, and is bilingual in English and Spanish.
All three of these vein doctors prioritize patient care and strive to provide treatment with compassion and professionalism. Click here for directions and check out the Vein Treatment Clinic location in New York City for vein treatment today!