If you're dealing with spider and varicose veins, as well as the many complications that come with them, it's time to make an appointment with a reputable varicose vein specialist. You can expect state-of-the-art care from physicians at Vein Treatment Center New York. Click HERE to book an appointment at our excellent vein center, or keep reading to learn more about vein doctors and the characteristics you should look for when seeking a vein doctor for your  treatment.
When looking for a vein clinic where you will be entrusting your health to an expert, the most crucial factor to consider is the quality and skill of their specialists. A vein doctor is known as a phlebologist, and they can originate from a range of medical specialties, such as cardiology, anesthesiology, and emergency medicine, as long as they have the necessary training to treat veins.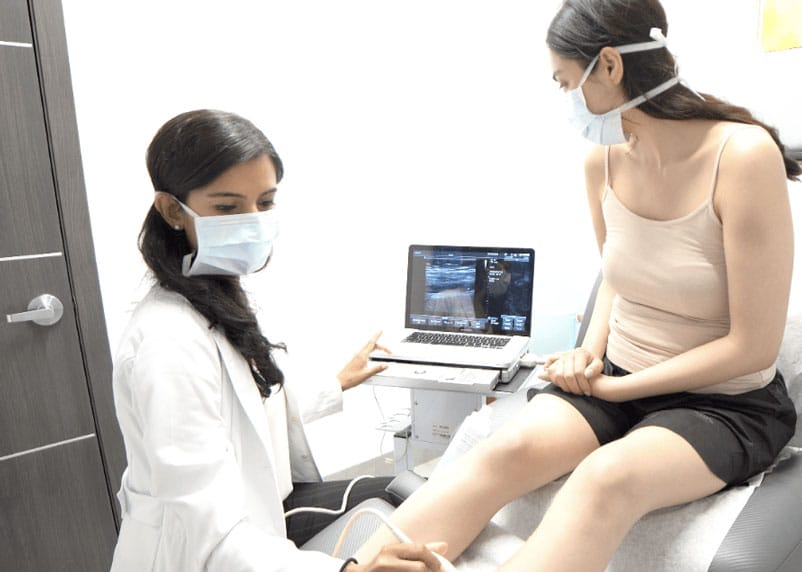 The easiest approach to assess a phlebologist is to visit the clinic's website and read about their credentials, success stories, and patient testimonials. It's important to seek a vein doctor who is well-versed in ultrasonography and minimally invasive treatments so you can be certain that you're getting the best vein care possible. It is also vital that you choose a vein doctor who is caring, understanding, and capable of communicating well with you throughout all phases of treatment.
1. Board-Certified Physicians
Look for board-certified vein doctors with solid educational credentials from recognized medical schools when choosing a vein clinic to treat your vein disease. All of the vein experts at our vein treatment center in NYC have been certified by the American Board of Venous Medicine (ABVLM), so you can be confident that you are receiving the best possible care.
2. Cutting-Edge Technology and Techniques
The best vein treatment centers offer minimally invasive treatments, which are safer, faster, and more efficient than surgical methods. As professionals and industry leaders, our vein physicians at the Vein Treatment Center in NYC provide cutting-edge minimally invasive non-surgical procedures.
3. Patient-Centered Care
As a patient, you have the right to be informed about your treatment plan and care, and the plans should be tailored to your specific requirements. A vein treatment center's vein doctors should be prepared to explain their treatment plan and procedures to you. The vein specialists at Vein Treatment Center in New York City are dedicated to patient education and putting you first.
4. Accessible
When looking for vein treatment in New York City, ensure the location is convenient for you, especially if your treatment plan requires repeated trips to the vein center. Traveling long distances for treatment is not ideal, especially if you experience symptoms such as pain or discomfort from vein disease. The Vein Treatment Center in New York City has several sites, including Midtown and Long Island, to make your vein treatment as accessible as possible.
Dr. Juan Montoya
As a Center of Excellence, the vein doctors at our vein center in NYC collaborate with and educate their colleagues. Numerous vein doctors from all over the globe come to observe and learn the latest techniques and procedures in minimally-invasive vein treatments. Dr. Juan Montoya, for example, is a Yale-trained, double-boarded venous medicine and cardiothoracic surgery expert who educated Colombian physicians about aortic disease and recent surgical developments before joining the team at our Vein Treatment Center in NYC.
Dr. Sareh Rajaee
Patient care is at the forefront of everything that we do at Vein Treatment Clinic NY, and this priority is upheld by everyone on our team, including our vein doctors. Dr. Sareh Rajaee is a Yale-trained vascular surgeon who specializes in vein and arterial disorders. Her success rate for spider and varicose vein removal is excellent, but these numbers aren't her main priority. She approaches patient care holistically, not simply doing treatments but also pushing for patient rights.
Make an Appointment Today!
Overall, a vein treatment center that stands out is one that puts you first. The Vein Treatment Center in New York City has doctors that are invested in your well-being and are willing to collaborate with you in the healing process. Because minimally invasive procedures are the standard, making an appointment at our vein treatment clinic in NYC guarantees that you will receive the finest possible care. Our vein doctors are conveniently located near Midtown, near the Grand Station and the Penn Station, and Manhattan near the Financial District. Visit the Vein Treatment Center in NYC today!